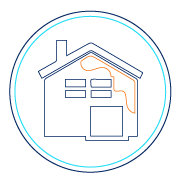 Even the most sturdy and spacious buildings can lose curb appeal without a proper paint job. Getting the perfect color and the best quality is vital for getting exactly what you want for your home. For homeowners in the Tulsa area, Tulsa Christian Bros Painting is your trusted resource for first-rate affordable paint jobs. In addition to providing both exterior painting and interior painting, this organization provides a number of valuable repair services in order to be the all-in-one resource for those who want to improve the appearance and longevity of their home.
More than Just a Traditional Painting Service
Nearly anyone can find a house painter who is willing to lend their services for the right price. However, homeowners are naturally skeptical about who they let work on their home. This is understandable, and Tulsa Christian Bros Painting provides numerous benefits to help give you the reassurance you need.
A Trustworthy Company with a Great Record
One of the best indicators of quality work is a proven record of success. We are happy to provide referrals from numerous residents in your area who were greatly satisfied with our services. Not only do we have raving reviews, but we offer a two-year warranty to give you the added bit of personal reassurance when it comes to the paint job on your home.
Professional Operations, Competitive Prices, and Specials
While some companies may simply send over a single painter to handle this type of job, Tulsa Christian Bros Painting goes the extra mile. While all of our technicians are highly skilled, multiple staff members including the production manager will be onsite to help oversee the job. While we are thorough, we also strive to be affordable. We offer competitive prices and can provide estimates beforehand. Periodic specials are also offered to help reward those who shop around for the best option.
A Versatile Array of Valuable Services
Whether you need a new coat of paint on the exterior of your home to increase its curb appeal or a new color scheme inside for a new interior design, we can provide the quality service you need. In addition, we offer a number of other helpful services for homeowners, such as:
Drywall Repair
Wood Rot Repair
Staining
Cabinet Refacing
At TCB Painting, we are the Tulsa area experts in exterior and interior home painting. You want the best for your new home. If you are building a new home, we will help you choose the colors that go perfectly with new home's decor and style. You want your new home to have the look and feel that you have always envisioned. There is nothing that completes a home like the perfect paint job.
When you combine paints like Sherwin Williams and Spectrum with great service and craftsmanship, you cannot go wrong with having TCB Painting complete your new home. Give us a call today to see how we can help you get started. We will make your paint project the easiest part about building.
Don't settle for less when it comes to your home. Let Tulsa Christian Bros Painting provide you with the affordable first-rate painting services you need. Call us today and get your free quote!
Let Tulsa Christian Bros Painting Serve You Today!
Our services have been spread through many commercial and residential facilities in the Tulsa area. With plenty of satisfied customers, we are happy to provide referrals to help you get the reassurance you need. Let our experienced and organization provide you with the painting, repairs, and home services you need to keep your home or business strong and vibrant. To get a free quote, call us today!
Tulsa Christian Bros Painting