Homeowners are naturally concerned about their home's visual appeal. While this is an important factor, structural integrity is also a pressing issue that every homeowner should take into account. Even the best looking home can sometimes have problems with stability related to wood rot. This can be the result of weather damage, a lack of maintenance, or a number of other factors. When you need high-quality repair services to deal with wood rot in the Tulsa area, contact Tulsa Christian Bros Painting. We provide a number of valuable services to homeowners including interior painting, exterior painting, and wood rot repair.
What is Wood Rot? What Causes It?
The strength and stiffness of wood are two factors which are considered when building a home. Quality materials can provide stability and durability in the long-term. However, excessive exposure to moisture can cause the wood to decay and compromise the stability of the structure. This can be caused by a number of factors, including:
Poorly-positioned lawn sprinklers, drainage pipes, or gutters
Large amounts of shrubbery that are in direct contact with the structure
Leaking or ruptured pipes
High levels of water in the ground beneath the structure
Our technicians know the warning signs to look for, and can provide a timely and efficient solution customized to the position and severity of any wood rot issue in your home.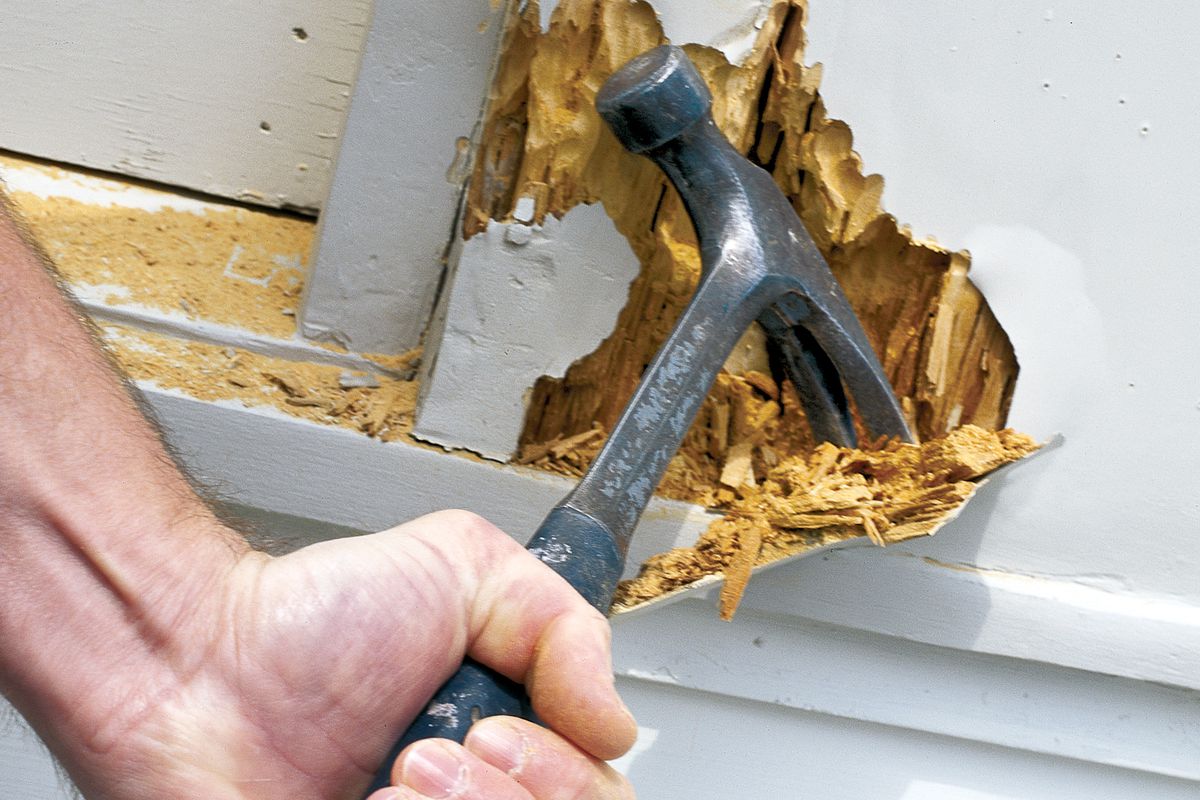 Call For a Quote:
(918) 282-3216
What to Expect with Wood Rot Repair
Repairing wood rot is an easy procedure which can be handled in a few simple steps by our trained technicians. After the damaged wood has been removed, wood hardener will be applied to strengthen existing wood and to safeguard against similar issues in the future. Our technicians will also work to discover the issues that resulted in the initial damage. This allows you to get an excellent fix that will save you stress and money in the long term.
High-Quality Service from Qualified Professionals
When wood rot occurs in your home, it can be very frustrating. Many homeowners are hesitant about calling in contractors to handle this type of work. However, Tulsa Christian Bros Painting provides you with a two-year warranty, competitive prices, and a price estimates to give you the reassurance you need. Our company has a history of achieving customer satisfaction in the Tulsa area, and we can provide referrals upon request. Don't let wood rot issues in your home get worse; call 918-282-3216 today to get a free quote!
Let Tulsa Christian Bros Painting Serve You Today!
How much will it cost to have the exterior of my house painted?
We will paint the entire exterior of your house for a flat rate as low as $995*.
What is the $199 a room special?
Frequently Asked Questions
How much will it cost to have the exterior of my house painted?
Check Out our $199 a room pricing!
Our $199 room special is the best deal around.
One coat one color walls and ceiling only
12x12x8 room.
Minimum of  rooms
*Conditions Apply. Talk to your representative for more information or fill out a free in person quote to learn more details.
How much is it to have my room painted?
We offer a flat rate of $199* per room that is 12x12x8. This rate is for one coat, one coat one color, walls, and this is a labor price not including paints and materials to paint a room in your house. You can buy any brand of paint that you prefer,or we can pick it up and we will apply it professionally.
The exterior of our house has some dry rot on the wood siding where some plants were climbing on the side of the house. Can you fix the dry rot at the same time that you repaint our home?
Yes. We have many years of experience repairing dry rot. Contact us for a free estimate.
In what areas do you offer your exterior & interior painting services
We do contract painting jobs throughout the Tulsa, Oklahoma area, including the cities of Broken Arrow, Jenks, Owasso, and Bixby, OK.
Are you insured?
Yes, we are fully insured.
Can you paint the exterior of my store?
Yes. We offer commercial as well as residential painting service. Contact us for a free estimate.
What brands of paint do you use
We proudly offer Sherwin Williams paints to our customers. These paints are known for their durability & easy maintenance.
How do I schedule an appointment for you to paint my house or get a quote?
You can fill out the contact form here on the site, or you can call us. We look forward to hearing from you.
What is the $995 exterior paint special?
$995: the $995 is for up to a 1400 sqft house, 1 color, labor only (no paint or materials), and on houses that are 70% siding and under.
It includes light pressure washing, Light spot scraping (houses that need heavy scraping will accrue an additional charge),
Light caulking (houses that needs complete re-caulk or extensive caulking will accrue an additional charge for masking, and painting. 
Our services have been spread through many commercial and residential facilities in the Tulsa area. With plenty of satisfied customers, we are happy to provide referrals to help you get the reassurance you need. Let our experienced and organization provide you with the painting, repairs, and home services you need to keep your home or business strong and vibrant. To get a free quote, call us today!
Tulsa Christian Bros Painting